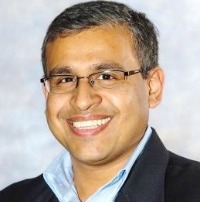 I could say that I am a strategist, marketer, manager, leader or consultant, but that would exclude my other identities of father, son, engineer, consumer, student, blogger, coach, biker, musician (aspiring), chef (decent) and among many others, a dreamer.
Should I choose a professional label, or a personal one? It depends on the context, I guess. So I'll leave it to you.
The 5 principles in my book have come from my experience consulting with global brand organizations over almost two decades. I've helped launch multi-country initiatives with significant impact and devised long term business-technology roadmaps. I've created value propositions that emphasize solutions for our customers' most pressing problems.
I'm also a marketer and buyer of products and services. I've sold and been sold to. I've learned what works and what doesn't. I've created and executed razor sharp campaigns based on these five principles.
I hope you enjoy and find useful my views on the future of customer engagement.
Manish Grover
MBA (Carnegie Mellon) | MS (Florida Atlantic) | BE Honors (BITS Pilani)