In Connected!, one of the 5 strategies I outlined towards being a connected company was about creating 3-tier loyalty models. It means that we start thinking about extending our loyalty programs. Every industry can do it – banking, retail, CPG, travel etc. All we need to do is to think of what our customers want beyond the products we are selling. (The book is on Kindle as part of the launch offer for 99c) and this post is sort of an advt too (sorry about that)!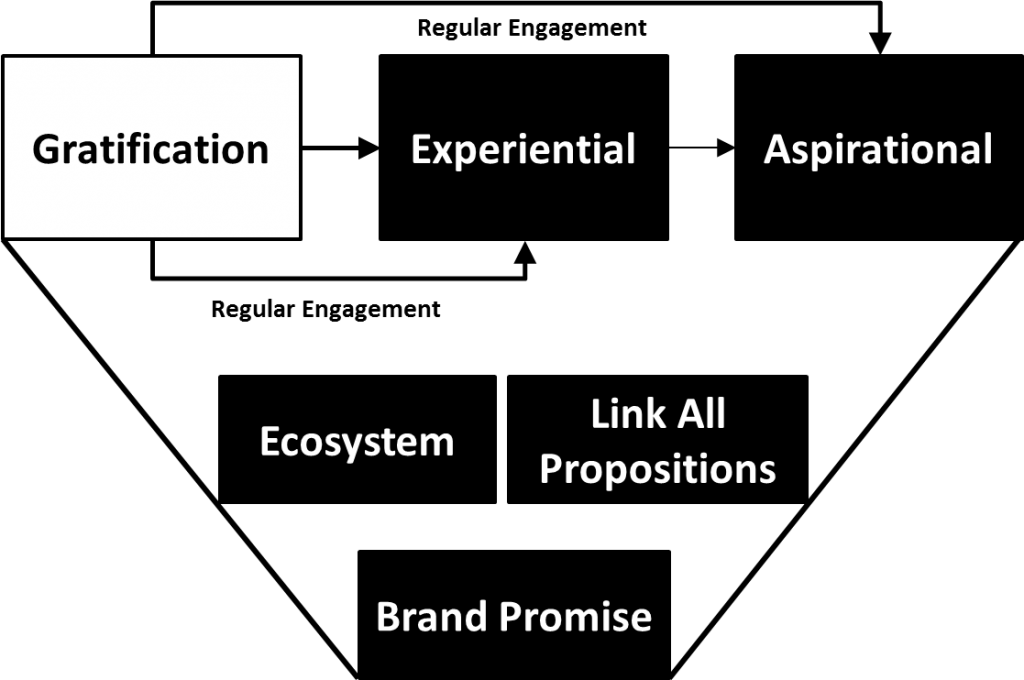 In Tier 1, I show how traditional redemption based models (miles, points, discounts etc.), can be expanded to consider experiential, and finally aspirational loyalty. Studies have shown that our loyalty programs are becoming too discount focused, and customers are getting used to (even waiting for) the discount. That's not bad but we can do even better! So the 3 levels of loyalty in Tier 1 are not just a way to jazz up the program, but also leapfrog competition by engaging customers as per their core purpose. And before you start getting nervous, know that this is not dramatically new. Anyone remember the awesome concerts that our Amex cards used to give us exclusive access to? The trick is to start thinking of exclusivity for our customers, and ultimately something they can look forward over a longer time horizon.
In Tier 2, I show how we can extend our programs to include additional players who will make our programs more effective. That's the core idea of connected anyway – build an ecosystem. The basic premise is that the needs of our customers are broader than the products we are selling. So why not address that by being more inclusive. Being digital is about escaping our silos, and looking outside-in. Don't just pay lip service to outside-in, do it!
And in Tier 3, I show how we should become reference anchors in our customers minds. We can do that by 2 ways. First, every brand today needs reinforcement. How can we translate the promises we make in our advertisements and slogans into physical experiences? If we claim trust, do we deliver it during and after purchase? Second, how do we start providing advice instead of just selling. We all know that customers always look for second opinions (check prices while in your store or bank branch, go to aggregator sites for travel bookings etc.). Instead of fighting it and calling it showrooming and other negative things, think of how we can make it easier for customers to get the same advice from us! Don't let normal customer behavior cause a break in their engagement with you. I won't say that Tier 3 is not complex but I will definitely say that it is not difficult. All we need to do is to start putting customers at the center of our universe! Rest will follow.
In short, reduce the cost of redemptions, encourage higher wallet share, and boost retention! Isn't that what we all are looking for!
Get your copy of the book to read more. It's available for 99c only as part of the introductory launch offer! That's as close to FREE as you can get on Amazon Kindle. Sorry again for the shameless plug! Images are from the book.
Kindle Link: https://www.amazon.com/dp/B06Y3SZBZK