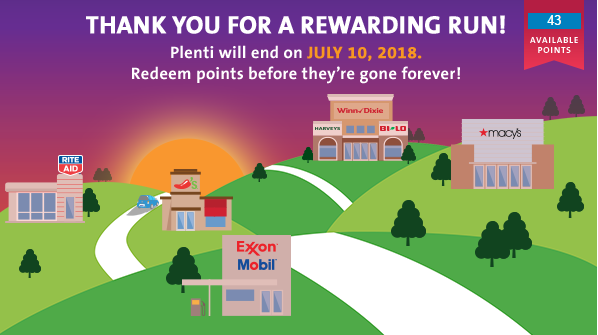 The coalition loyalty rewards program Plenti has wrapped up operations as of July 2018. Plenti was a cross-industry loyalty network where customers could earn points and spend at multiple places. Partners included American Express (creator), Macy's, Netflix, Hulu, Exxon, RiteAid, Chilli's, Enterprise, Winn Dixie and others.
Why did such an exciting proposition fail? Was Plenti a bad idea or were the issues more tactical? What does it mean for cross-industry loyalty programs?
Here's my humble take:
1. Giving up on Plenti was a blow for customer engagement
Through Plenti the partnering brands had this amazing shot at becoming a company of the future. But it is now just a familiar story of missed opportunities for both consumers and brands. With Plenti each company could begin a new journey to becoming customer centric. They could create ultimate customer engagement by expanding the customer journeys they examined and addressed beyond their own corporate silos. Because of its cross-industry nature, Plenti would have given purpose and a larger box to guide analytics and AI based customer experiences. The relationship with customers could have been driven by context like never before. The Plenti platform could have become a customer's platform and not the sponsors' marketing vehicle. The issues of privacy violations could have been a thing of the past for those customers who willingly participated.
But sticking to traditional metrics of success measurement and execution did the program in. Instead of advancing the standards of customer engagement, the sponsors now have to go back to the traditional method of buying customer behavior and loyalty. We are back to a failing loyalty model of the stone age because it provides immediate "quantification of effort". Together brands could have acted like a conglomerate such as Amazon without being one in this new digital, connected world.
2. The failure of Plenti was tactical
Even as the Plenti participants chose to withdraw, we can see airlines expanding their programs to be cross industry, Uber and Airbnb expanding to cover expanding customer journeys, and big retailers such as Amazon and Walmart morphing their original identities to cover new offerings through Plenti like loyalty and subscription programs.
The failures therefore are not a strategic market indication but were rather tactical in my view. As a Plenti customer, I felt that Plenti was a little clunky. I never easily knew where I was with my points and what my redemption options were, the customer experience model was very big company driven – instead of simply sending me texts and emails they just kept getting lost in privacy and consent issues, redeeming points needed a pin which was a pain to reset, and so on.
Short term rewards were excellent and it was a delightful experience when the cashiers announced them. But I had to rely on the store to tell me how much I had. Yes, I could have been more active with my online account but they could have also sent it by email or text and made it easier? In addition, the spending was cross-industry but the rewards were still pretty traditional. Overall, the CX layer of the program – especially cross-industry – should have been more deliberate and obvious.
3. The move to experiential & aspirational loyalty was slow
Overall the program was slow in driving customers from being points focused to being experiences and aspiration driven. That evolution would have made customers consciously look forward to using Plenti in new ways rather than the POS discount expectation that every other loyalty program sets.
The Plenti partners did create some nice innovations. I remember fitness related discounts at RiteAid that engaged customers with a broader brand messaging focused on long term goals. But for the most part, the best practices of the top brands of the world were not able to come to Plenti. If you have worked in a large organization and tried to bridge functional or product boundaries, that should not come as a surprise to you. The simplest way to put it is: we did ourselves in.
To be fair, most loyalty program don't do experiences and aspirations today. A reasonable analogy of what an aspiration based loyalty program looks like is the airlines loyalty programs where people engage with a goal to save miles & points towards a family vacation. Another examples is when you get exclusive access to an upcoming concert, or priority reservations at a popular restaurant. These are things that "money can't buy" to borrow from Mastercard's awesome campaign.
Plenti was the perfect vehicle to create amazing experiences and aspiration based rewards because it was such a broad coalition – hotels, gas, grocery, etc. But it probably became hard. Balancing short term goals of each brand getting its share of increased spending was not easy. In addition, coming together to think in terms of "customer first across industry boundaries" is not in our business training DNA. So the transition to this 3 tiered loyalty model did not happen in time.
4. The "new Plenti" might be more open and ecosystem driven
The fact that Plenti got wrapped up in their own centrally managed coalition model & brand was not their fault but perhaps it did not allow them to scale quicker. Instead of focusing on on-boarding partners to Plenti, they could have become a white labeled platform allowing any company to join, brand their own program and explore coalitions of their own.
For example, Target & Starbucks could have created a joint program called RedGreen. Or Walgreens, Cigna and YMCA could have created a custom program for themselves. Other companies may have chosen to migrate their grossly complicated and expensive-to-run programs on to this platform. What's more, such a platform can put customers in charge of selecting and customizing their own rewards across the entire ecosystem!
Technology is at a point today where this is easily possible. Especially with Distributed Ledger Technology (DLT) these coalitions are an excellent candidate because they provide high efficiency with all the benefits plus much more.  The trick is to think in terms of becoming a conglomerate by leveraging those around you.
So there you have it – my armchair analysis of this problem of Plenti. I'm sure it must have been a massively complex and difficult program to operate – and extremely painful to end for those close to it. So I do apologize for my simplistic treatment. Let me know what you think about Plenti and what the future has in store for us.