In today's fast paced, connected world, it has become crucial to engage with our customers, not just find ways to advertise to them. Customer engagement is actually a strong branding vehicle because it helps us align with the causes our customers love. And it can drive more profitable growth because it realigns our business with its higher purpose.
The UNICEF Kid Power program provides some great lessons for how businesses can drive such programs.
The purpose of our products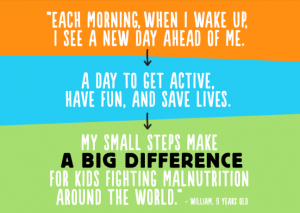 When my son brought home the UNICEF Kid Power band, I could see just 1 thing on his mind – he was doing good for someone else by being fit. The other features of the band such as counting steps, iPhone pairing, sharing with people etc. were not important at all. They were taken for granted. It was almost as if they didn't matter because the decision criteria was different. In other words all the other devices were commoditized. He discarded other sophisticated devices once he knew his daily steps with this band would help a kid somewhere get better. This fitness band was different. The band drives fitness by driving a higher purpose. Perhaps, the struggles of the leading fitness wearable providers is probably because of this simple reason. They are fighting on features, while customer engagement is done on aspirations.
What is UNICEF?
UNICEF (United Nations International Children's Emergency Fund) is an organization dedicated to helping children worldwide. It was established in 1946 and is headquartered in New York. Their primary stated goals are to:
Solve the global problem of malnutrition

: About 25% of the children worldwide are malnourished (with more in developing and poor countries) leading to severe health issues.

Get children to be more physically active

: In developed countries, the levels of physical activity have reduced by almost 50% leading to obesity and related health problems.
The Kid Power Program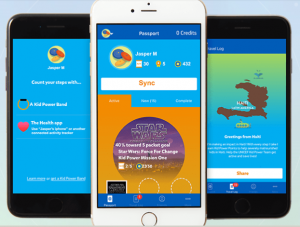 This is such a creative program by UNICEF! Essentially, through a fitness wristband, they encourage children and families to be active and unlock points, which in turn are used to unlock nutritional food packets supporting children worldwide that need help.
In addition, the program has created "Missions" which have a celebrity champion from sports or entertainment. These celebrities own a mission. For example, a mission to help 100 children in Haiti in 6 months. Every child worldwide who has the kid power band now can join the mission and start earning points by being more active. Every 2400 steps unlocks a point, and every 25 points unlock a food packet. Right now the key sponsors are Target and Star Wars, and  more are expected.
This year there are 170,000 children participating in the UNICEF Kid Power Schools Program – a teacher-led experience. In spring of 2016 alone, 61,000 students in over 2600 classrooms across 13 Kid Power Cities participated in the program. That was a 500% increase over 2015.
How does it apply to us?
What a wonderful way to be part of the community, and build a community. I hadn't heard of UNICEF in so many years and then I heard it from my son. I remember how we had to be told what UNICEF and its mission was, and even then it was something remote, to be appreciated and admired, and join once we had the means. And now our kids are actually participating directly and contributing to the mission – without any money!
The simple – and not novel by any means – business lesson I took away was this: as the world becomes digital, and traditional business models fall by the wayside, who will win? My guess is that a business that has established an ecosystem and customer engagement through the right emotional connections with its customers will win.
Isn't this just another advertising gimmick?
Depends on how you run it. By being in the middle of such an engagement program, you promise 5 things to participating members / customers:
You will help them meet their aspirations
You will bring like minded businesses and customers together
You will not sell at every chance you get
You will adapt your business model to align with aspirations of your customers
You will engage continuously and actively

The first one is obvious. The second promise above means that you will get started with enabling a platform that other businesses can join to boost the program. In short, you will  do what today's digital world is all about – build ecosystems. Just like health insurers are partnering with fitness centers, banks and retailers can join in too.
The 3rd and 4th promises above are linked because you will not sell, but you will adapt to provide enough value and reduce friction to the right level so that selling is natural and automatic. It's a proven fact that value is no longer measured only in monetary terms if it enables something aspirational (that's why branding exists). I might invest with my bank if the rates are reasonably comparable and if it helps me easily support  my favorite causes (aspiration), and if it makes it seamless to invest my surplus funds (feature). Moreover, I might favor one brand over another just because it aligns better with my personal passions – just like I am now a Unicef Kid Power dad although they don't have anything like that yet. Ultimately that's what a brand is if you equate away the core quality and price.
Such a program also forces you to look at continuous customer engagement and reinforcement, and not just when an offer is available. In fact, customers who have more meaningful touch-points and interactions with a brand or product are likely to spend more and be more loyal. An engagement program like this solves that problem comprehensively.
The UNICEF Kids Power program is only a model
The possibilities for customer engagement in a community are endless. The UNICEF Kid Power program shows again a model that is proven – people care and every business can help. For example, banks can solve the financial security and inclusion problem, health insurers and fitness centers can solve the problem of people coming out together and socializing, and retailers can solve the problem of clothing and food for all. We can be as inventive as we want to be with our goals, and the power of working together multiplies everyone's reach manifold. Every hobby and passion in the world can be part of such a program, with every business driving what it chooses to. The model can of course be extended by introducing tiers of engagement, promoting social status, providing meaningful rewards  and recognition, linking different types of organizations and so on.
As we get connected, and go digital, the basic need for people to form communities and work together towards a cause must still be met. As business models are under pressure, some of these activities have taken a hit. But the UNICEF model shows how with a little bit of creativity, we can adapt our customer engagement models to become an integral part of our customers lives. When we speak of Omni Channel customer engagement, perhaps this kind of engagement should be a part of that strategy. Examples do exist such as the Amex OPEN program for small business, the CVS fitness program among others. Our business must mean something to our customers, because the products don't make a brand (well, some do).
PS:
Images taken from the Unicef Kid Power website. I encourage you to take a look at the program. I am in no way affiliated with them so this is not an advertisement.
This blog is based on the principles in my latest book Connected! How #Platforms of today Will Become Apps of Tomorrow. Its free for Kindle Unlimited members. You can also write to me for a discounted paperback(signed by me if that matters at all!)