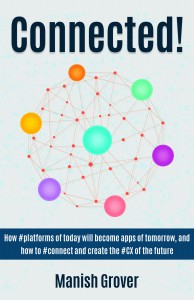 Excited to announce from Barcelona, Spain, that my second book "Connected! How #platforms of today will become apps of tomorrow" is now live as a Kindle eBook! The paperback & hard cover versions will out through the distributors soon. I'll also make the eBook available on Barnes & Noble & Apple in the next few weeks.
For a limited time, get  it now at the special price of 99 cents only!
This launch is truly special to me because it's on my Dad's birthday. I've been working towards this goal for a while, so its very fulfilling. 47K words seem to do just enough justice to this topic, and I did have this important deadline to meet!
The book covers some pretty awesome ground on how the new digital and connected marketplace is going to evolve, and how we can take steps to prepare our products and companies for it. The notion that platforms will become like apps is a very interesting one, but is also a gradually emerging reality. Something we should all be thinking about as we evolve our products and companies. I'm sure you'll like the book. I'll be posting blogs on on my website to cover some of the topics in more detail.
A note on reviews: Some independent reviews are coming soon, but do let me know if you'd like to review the book (a brief 2-3 sentence or longer honest review). As a sincere thanks, I'll send you a signed paperback for free when the review is posted. Your reviews will help a great deal to spread the word, and to cover additional material through blogs and articles. The process is just a little involved when you don't have a traditional publisher's army behind you to guide you and do all the heavy lifting! I'll appreciate your help. Access the Kindle eBook here.
Looking forward to yet another amazing journey! Adiós amigos, and see you soon!
"What we call the beginning is often the end. And to make an end is to make a beginning. The end is where we start from." – TS Eliot (courtesy Brainy Quote)