Recently, a reader of my book asked me about The Principle of External Reinforcement. Her point was that most organizations are now anyway helping people buy what they need. So what exactly is the purpose of this principle?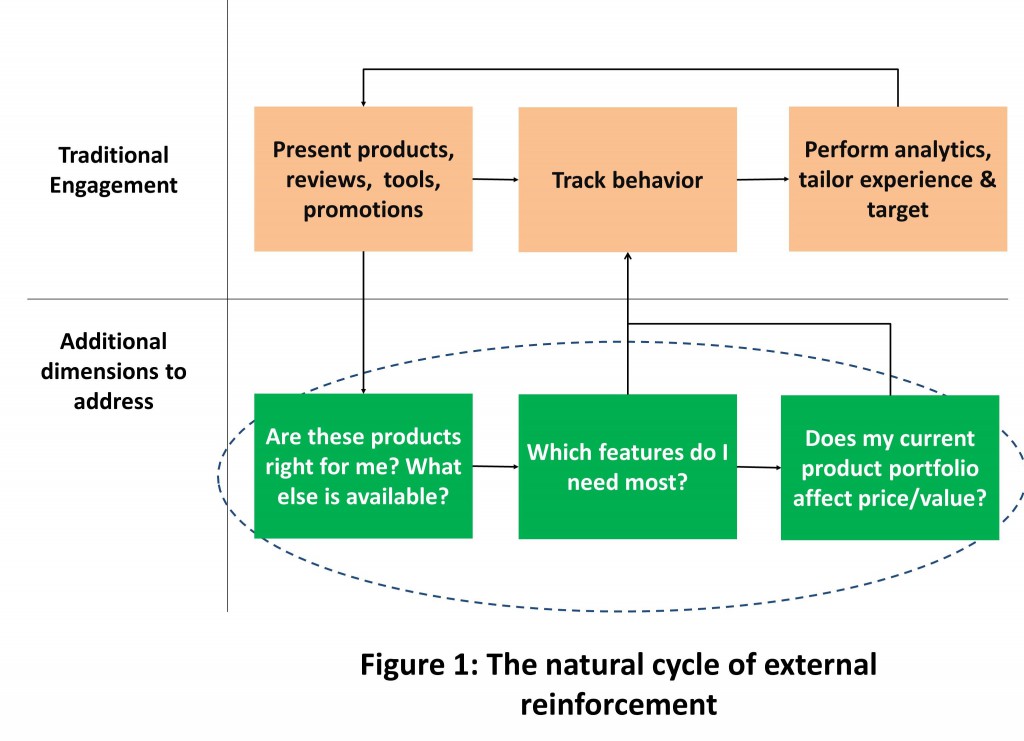 First, if you are already doing that, then its awesome. It doesn't really invalidate the principle, only helps support it, right?
Second, and more importantly, The Principle of External Reinforcement is about helping customers with their needs from a consultative perspective. Its not only about providing options and offers to buy.
Customers browse the websites of service providers and products to see if a product is a fit for them, and then of course buy from us if all works out. However, too often we get too wrapped up in selling (which is not necessarily a bad thing), versus helping customers do what's right for them. By failing to partner in their quest, we are unable to secure the all important reference anchor position in our customers minds.
Here are some examples we discussed:
1. The mortgage calculators on lenders' websites are a way to help customers decide. This is an example of a simple mathematical tool which gives customers quick information and can then lead into more detailed discussions. The further we take this tool, the more sticky our position becomes in the minds of the customer. By outlining best practices, things to avoid, how to refinance etc, we end up creating a situation where perhaps a half a point of rate difference will still win the customer for us. Although we necessarily don't have to add a premium to the interest rate to justify the approach. The additional references and conversions will more than make up for the minuscule incremental costs of this approach. In addition, adding multi-channel customer engagement to the mix will realize the ROI many times over. Consider how retention rates for add-on services suffer at many financial services companies just because the customer is unaware of the real benefits of the add-on?
2. Another example the reader provided was of travel sites such as Expedia. "Don't they already provide hotels, cars, flights etc – everything that I need?", she reasoned. Sure they do, but by the time we get to sites like these, and perform our search, we are looking for "the right price", not planning how to make the best of our vacation days. We look to external sources to do that. My analogy would be to ask the question: what does it take for a great piece of content like "how to spend 3 days in New York City" to become an actionable customer engagement tool on the website? In short, external reinforcement is about satisfying the questions a customer might have that will cause her to look to additional sources of information. She might still look at many sources, but a source that resonates with her with a customer partnership oriented approach will stick. And most likely, the transaction will be made there because of the obvious benefits such an approach will bring – for example, linking with local tourist guides? In addition, maintaining the context of a customers travels will lead to even better engagement because once a NYC trip is over, our promotional campaigns will send "NYC offers to send to friends", and "Vegas offers for you" instead of the other way around. It's an entire marketing and customer engagement overhaul.
3. Consultative sales in the enterprise software market are another great example. As new products are developed everyday in a changing digital world, customers are struggling with what's the best approach for them when it comes to technology architecture and investments. As customers make these decisions, software product companies are really leaving the decisions in the hands of consultants to help the customers decide. However, once an opportunity is qualified, can the "sales" conversations themselves become consulting calls by partnering to help customers assess their entire business process? Is there the risk of a lost sale if the product does not fit the need? Yes, but its most unlikely that decisions are that cut & dried if you have something worthwhile to sell. In case it doesn't still work out after all this, is it really to be regretted? On the other hand, creating such a mutually beneficial relationship with the customer will make it tough for them to take an adverse decision. After all, enterprise technology decisions are comfort decisions as well – customers are looking for a quality partner that will help them go the distance when it comes to realizing their ultimate business goals.
So The Principle of External Reinforcement is about understanding the context, and helping the customer make the right decision for herself. It's not just about putting more marketing offers on the table. Its about creating a fertile ground for customer partnership, resulting in a win-win for all. Increasing loyalty is a function of great customer service, which in turn is a function of how well we understand our customers to help them make the best of their investments in our products.